This fanfiction belongs to

WikiPager3
Please DO NOT edit this fanfiction without permission. Only WikiPager3 has the right to edit this page.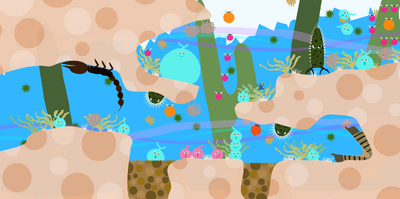 Desanooi is a location in LocoRoco Beyond. It is called the desert oasis and is also Minadi's favorite zone. It has four playable stages and two minigames in Beyond.
Environment
Desanooi has sand-colored ground with many small, roughly triangular hills and varying forms of cacti. Some places have quicksand on the ground, which looks like bumpy ground and the LocoRoco would slowly pass through, similar to hidden areas. Other parts of Desanooi are in oases and pyramids and are sometimes victim to sandstorms.
The song Peyutte Tadhi can be heard in this location, but Muouota Anapuc can be heard when playing as Minadi.
Stages
LocoRoco Beyond
Trivia